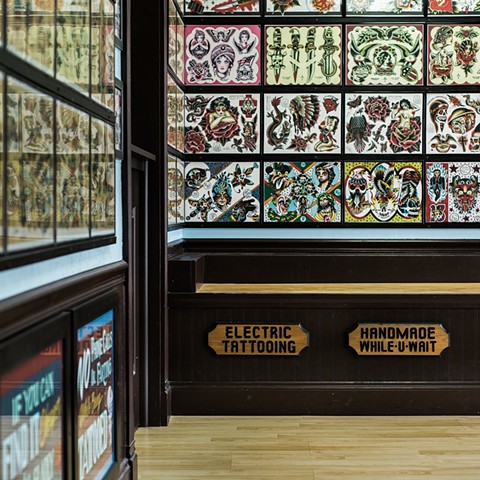 Welcome to forevertattoo.net. Forever Tattoo Parlour offers tattooing by owner/artist Mark Stewart, Heather Law, Tyler Brandt Ferguson, Carl Testi, and Gema Cisneros.
Forever Tattoo Parlour is dedicated to bringing you "custom" tattoos. Specializing in Traditional American.
You get a personalized tattoo every time... no tattoo is done the same twice. Along with bringing you "custom" artwork, forever tattoo parlour gives you a safe, clean, and sterile environment, with NO ATTITUDES. You will get their undivided attention to work with you and give you what you want.
The shop minimum is $100, and the hourly rate is $150-$200 but this only applies to larger multisession work, one-sitting tattoos are priced by the piece. Your artist will be more than happy to give a price quote after the final artwork is decided upon. We are unable to give price quotes over the phone.
The shop requires a $100 non-refundable deposit for all appointments, this deposit is deducted off the final price of the tattoo. If possible, please visit in person to make an appointment.
WALK-INS WELCOME!
Bringing you the best tattoos in Cape Coral, Fort Myers and all of Southwest Florida.